May Vol. 15, No. 97 (1817)
Image of Cover Page of Issue
Image of Covent Garden Actress published in this issue.
FASHIONS
FOR
JUNE, 1817
EXPLANATION OF THE PRINTS OF FASHION.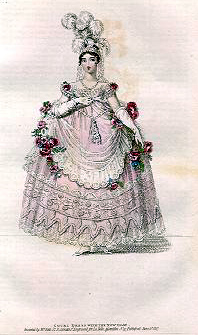 No. 1. --COURT DRESS.
Full suit dress of pink satin, finished round the border with fine blond interspersed with pearls, to which are added rich cordons and embossments of white silk, in an embroidery of a novel kind, mingled with artificial flowers.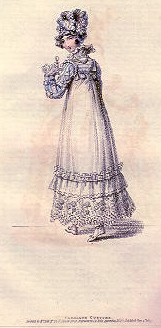 No. 2. --CARRIAGE COSTUME.
Round dress of India book muslin, elegantly embroidered and finished by a flounce of the most superb needle-work.
GENERAL OBSERVATIONS ON FASHION AND DRESS.
[from page 226] The favourite colours are lilac, purple lily of Sharon, Indian rose, etherial blue, and Spanish brown.
Court jewellery consists of pearls or diamonds; undress jewellery of cornelian, sapphire, and agate: rings are but little worn.
Pattern for embroidery published in this issue.
---