Journal des Dames et des Modes
(Costume Parisien), 1797-1839
Last Update 5/1/4
---
Fashion Plates, 1797-1803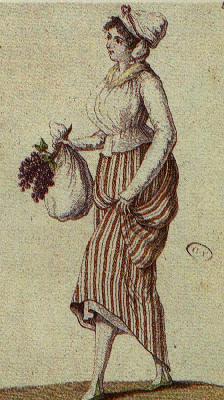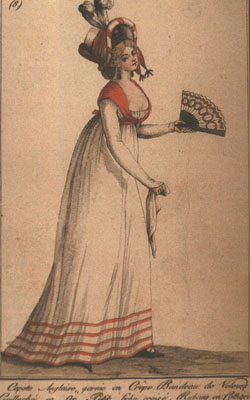 Left: a simple striped gown with a plain white spencer above it (c. 1797-1799). Note the two-color stockings, with green clocks to match the green slippers. A casual turban covers the lady's head as she is out walking.
Right: Women's dress, 1797, plate 8. "Capote Anglaise, garnie en Crepe Bandeau de Velourz, Guilloche en Or, Petit `fichu croise.'"
---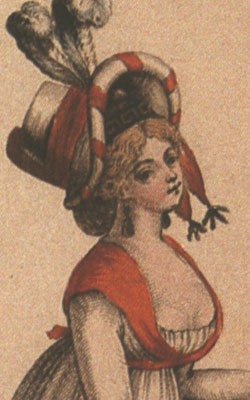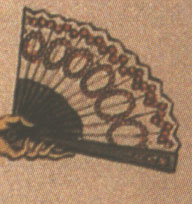 Details of plate 8, 1797.
---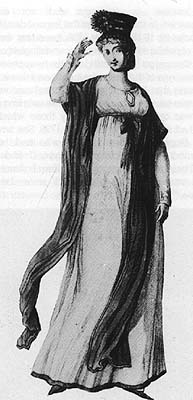 Left: July 1797. According to Alice Mackrell, Shawls, Stoles and Scarves (NY: Drama Books, 1986), "The model wears a rose-coloured schall uni of transparent lawn and bearing the Grecian ring motif, which complements perfectly the white neoclassical chemise" (41).
Right: 25 Nov. 1797, Women's dress with "schall uni."
---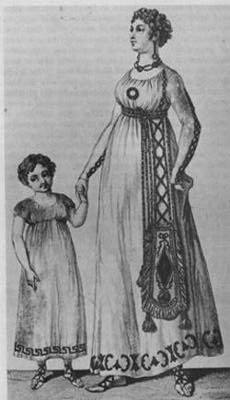 Left: Child and Woman's Dress in Greek Mode, 1798. These two dresses have hems trimmed in Greek patterns. The mother's elaborate reticule is designed with Greek patterns as well. The lack of ruffles and lace is part of the effort to make the dress look like a simple Greek toga. Note the Greek style sandals.
Right: Woman's Dress of 25 Feb. 1798, plate 24.
---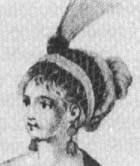 Detail of woman's head of plate 24, 1798.
---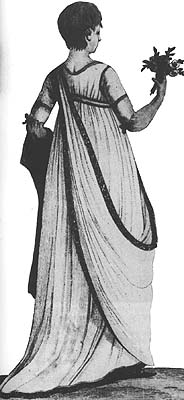 Left: Woman's Dress of 22 Aug. 1798. According to Alice Mackrell, Shawls, Stoles and Scarves (NY: Drama Books, 1986), the dress features a "echarpe agragee" or clasped scarf (29). The hair is cut in the "Titus" style.
Right: Morning Dress,1799. Note the Grecian pattern on the shawl and the way the hat is modelled on a Greek helmet. Compare the stockings to those of the undated plate above (c. 1797-1799) with the similar colored clock at the ankle.
---
Left: Male Dress, 1799. Plate no. 237, labelled "An 8. Collet haut. Pantalon large." Millia Davenport writes of this plate in The Book of Costume. Volume I. (New York: Crown Publishers, 1948): "The `shaggy head' to which Walpole objected in the young English men of 1791, is worn in `dog's ears' with an English swallow-tail coat of cloth, the cuffs of which turn down to cover the knuckles ... while the chin is buried in a knotted kerchief- cravat. English stick. High-crowned straw hat with a narrow rolled brim, is trimmed with a buckle, which has moved to the hat after leaving the shoe" (721).

Detail of hair and neckcloth.

Detail of cuff and hat.

Detail of shoe and pantleg.
---
| | |
| --- | --- |
| | |
| Morning Dress, 1801. This simple morning dress is slit down the front and tied by white tasseled cords that allow provocative glimpses of the lace trimmed underdress. A cashmere shawl of green, pink, and yellow squares is draped over the lady's shoulders. | Ball Dress, 1801. Plate is labeled "An 9." This ball dress is so daring that the lady's left nipple is showing, which may not be visible at this size and resolution. This dress was copied by The Ladies Magazine in their February of 1801 issue, but the neckline was raised to cover the nipples. The train is trimmed with two rows of fabric roses, while the darker overdress is fringed. |
---
| | |
| --- | --- |
| Riding Habit, 1803. This riding habit was called the "Amazon" style. | |
---
To Return to the Main Journal des Dames et des Modes Page
To Return to the Regency Publications Page