The Lady's Magazine, or Entertaining Companion for the Fair Sex, Appropriated solely to their Use and Amusement, 1802

Volume XXXIII for the Year 1802

London: G. and J. Robinson, No. 25, Pater-noster-Row.

Previous Issue

Next Issue
September 1802
PARISIAN FASHIONS.
(With an Engraving elegantly coloured.)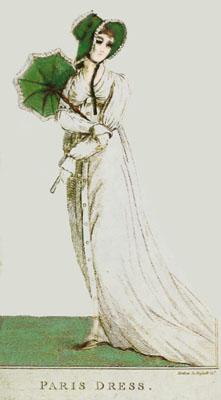 [Text is on pages 484-5.]
THE lace half handkerchiefs, en marmotte,are become the prevailing coeffure. They are made up in a new fashion, by spreading them more and advancing them further upon the cheeks. The lace veils laid flat upon the hair no longer come down upon the forehead; on the contrary, they are thrown back so far, they would fall, if they were not fixed with a pin to the back of the head.
December 1802
PARISIAN FASHIONS.
(With an Engraving elegantly coloured.)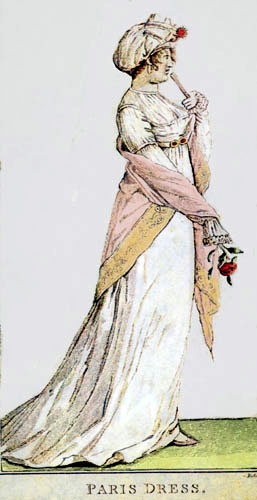 [Text is on pages 652-3.]
A considerable number of our éléganteswear a large tuft of hair à l'Angloise,cut square and turned back upon the forehead. To render this tuft more visible, the hats, which already came low down upon the neck, have now the fronts highly arched off from the head. The head dresses in long hair are generally encompassed with one or two braids. [....] Turbans are still the fashion. Some wear them with the part before that used to be behind. The élégantesof the middle order make these turbans with their shawls of painted muslin, particularly with those of Egyptian earth, and amaranthus colour. We have lately noticed a great many élégantesof the first class, with white satin hats, with draperies, and a star upon the crown, which is flat, without any leaf upon the neck.
[from page 653] The full-dress robes are cut very low upon the breast and neck, and have the sleeve-ends very short. These sleeve-ends are plain, or trimmed at the edge with a double row of tulle,which forms the facing.
---
To Return to the Lady's Magazine Main Page
To Return to the Regency Publications Page