The Lady's Magazine, or Entertaining Companion for the Fair Sex, Appropriated solely to their Use and Amusement, 1810

Volume XLI for the Year 1810

London: G. Robinson, No. 25, Paternoster Row.

Previous Issue

Next Issue
November 1810
[From a description of the funeral for Princess Amelia, page 488]
During the service, which was read by the Honorable and Rev. the Dean of Windsor, his Royal Highness the Prince of Wales, and his Royal brothers, as well as the Knights of the Garter present, occupied their respective stalls. The Nobility, Privy Councillors, and officers of the household, as well as others who had followed the body, were plasced in the vacant and intermediate stalls. The Ladies' attendants were in the seat below the stalls on the north side nearest the Altar; the Grooms of the bed-chamber, Physicians, Rector and Curate of Windsor, Surgeon, Apothecary, and Solicitor of her late Royal Highness, in the seat below the stalls on the south side, nearest the Altar; the equerries, and the Queen's and Princesses' other attendants, in the front seats on either side; the pages were arranged below the Altar.
The part of the service before the interment, and the anthem, being performed, the procession moved out of the choir in the order in which it had entered, and proceeed up the north aisle of the choir, flanked by the Royal Horse Guards, blue, to the place of burial behind the Altar.
The body being deposited in the vault, and the service concluded, Sir Isaac Heard Garter, after a short pause, pronounced, near the grave, the style of her late Royal Highness, as follows:--
Thus it hath pleased Almighty God, to take out of this transitory life unto his Divine Mercy the late most Illustrious Princess Amelia, 6th and youngest daughter fo Most Excellent Majesty George the Third, by the Grace of god, of the United Kingdom of Great-Britain and Ireland, King, Defender of the Faith; whom God bless and preserve with long Life, Health, and Honor, and all worldly happiness.
After which, the Royal Princes, the nobility, and others, who had composed the procession, returned, having witnessed that every part of this mournful and afflicting ceremony had been conducted with great regularity, decorum, and solemnity.
[MOURNING] LONDON FASHIONS.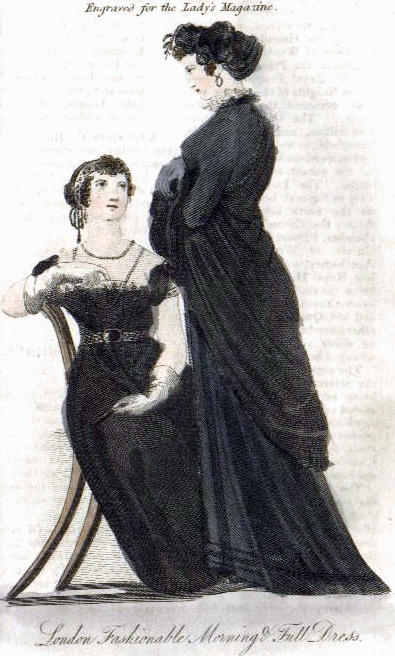 [Scan and text courtesy of Ko Oosterwijk; Text from page488.]
1. FULL DRESS.--Black velvet, ornamented with jet and bugles, trimmed round the bosom with Vandyke lace; the sleeves confined on the shoulders by jet broaches, the under sleeve of white satin, with bugles; the waistband and head-dress the same: white kid gloves and shoes: fan of black crape.
2. Morning Dress--Of raven-grey silk, made tight at the throat, with white crape ruff: bonnet, black silk and crape: black silk mantle; shoes and gloves same color as the dress: broach and ear-rings of jet.
---
To Return to the Lady's Magazine Main Page
To Return to the Regency Publications Page