The Lady's Magazine, or Entertaining Companion for the Fair Sex, Appropriated solely to their Use and Amusement, 1810

Volume XLI for the Year 1810

London: G. Robinson, No. 25, Paternoster Row.

Previous Issue

Next Issue
January 1810
LONDON MORNING AND FULL-DRESSES.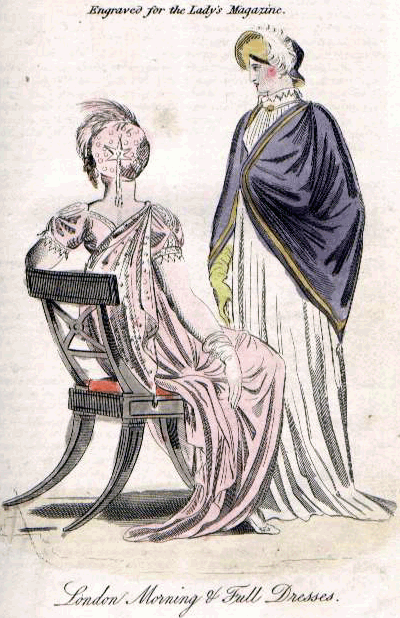 [Scan and text courtesy of Ko Oosterwijk; text is on page 32.]
1. A SHORT train dress of pink crape over a white satin slip; short sleeves, ornamented with an antique lace, and fastened with silver clasps. A tunic or drapery of silver gause [sic] is fastened on the right shoulder with a clasp, and passes under the left arm. Cap of pink crape, spotted with silver, ornamented in front with a shaded pink and white feather and a paradise plume. White satin shoes, and silver rosettes. White gloves.
2. Morning dress of plain India muslin, finished round the bottom with a broad hem, ornamented at the throat with a frill of lace. A three-cornered mantle of purple cloth, lined with white sarcenet, trimmed with a narrow gold lacing. A small hat or bonnet of purple velvet, ornamented with a shaded feather. York tan gloves, and purple boots.
THE PHYSICIAN.
AN APALOGUE.
A VERY skilful [sic] but covetous physician coming to visit Lahorasb the philospher, when he was in a fair way of recovery, found him eating a ragout. "What are you doing?" said he, "such food is poison even for the best constituions.". [sic]
Lohorasb answered, "I acknowlege what you say to be true; I was to blame, and for the future will refrain from indulging my appetite. --But what do I owe you for your attendance during my illness?"
The physician demanded a very considerable sum.
"Your fees," said the philosopher, paying him, "are too exorbitant for you patients. Endeavour to remove the disease under which you yourself labour. Believe me, it is as serious as mine. Riches are to the mind, what ragouts are to the body. ["]
---
To Return to the Lady's Magazine Main Page
To Return to the Regency Publications Page