The Ladies' Pocket Magazine (1824)

The Ladies' Toilet.
FASHIONS REPRESENTED IN THE ENGRAVINGS.

[From page 69] EVENING DRESS. --White gauze frock over white satin, with a rich puckering of tulle at the border, divided by ornaments of blond: three broad bias tucks surmount this puckering, each headed by beading.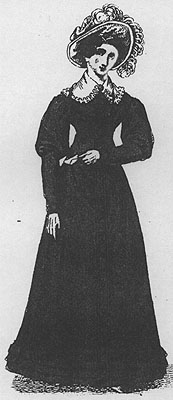 CARRIAGE DRESS. --Sky-blue pelisse of gros de Naples, buttoning close down the front, from the throat to the shoe.