February Vol. 5, No. 29 (1812)
FASHIONS
FOR
MARCH, 1812
EXPLANATION OF THE PRINTS OF FASHION.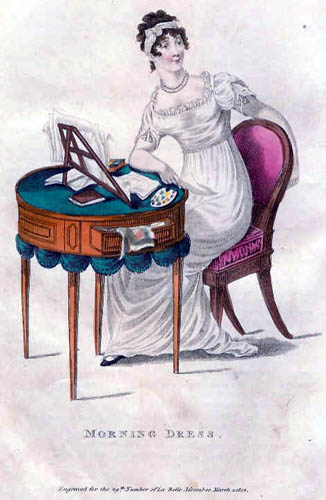 No. 1. --MORNING, OR HOME COSTUME.
A white cambric frock, with a demi train; short sleeves fastened up in front with cordon and tassels: a necklace formed of two rows of opal; the hair dressed in full curls, and confined by a demi turban of very fine muslin tied on the right side with a small bow; silk stockings with lace clocks, richly brocaded, and plain black kid slippers.
No. 2. --DRESS FOR THE FASHIONABLE PROMENADES.
A purple velvet pelisse, with a full standing-up collar, worn carelessly open over a round white dress of fine French cambric; the pelisse trimmed with a broad bordering of braided ribbons, the same colour as the velvet. A Minerva bonnet of amber coloured sarsnet, with a long white ostrich feather across the front; the feather made round, and very full; long black lace veil, a-la- religieuse; a chain necklace, composed of pearls with a gold ornament depending [sic] in front, representing the Apollo Lyre, set round with a circle of pearls; a gold Lisbon chain with an eye glass handing below the waist. Plain gold oval-ring pendants. Purple half boots, and York tan gloves.
GENERAL OBSERVATIONS ON FASHION AND DRESS.
[from page 101] The hair is drest in the same style as last month.
The prevailing colours are fawn colour, purple, amber, coquelicot, and pale ruby.
---