March Vol. 5, No. 30 (1812)
FASHIONS
FOR
APRIL, 1812
EXPLANATION OF THE PRINTS OF FASHION.
No. 1. --WALKING DRESS.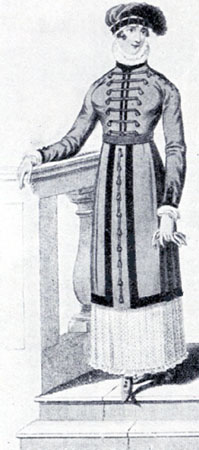 A three quarters pelisse of dark willow-green sarsnet, or fine Merino cloth, worn over a round dress of fine India muslin, richly embroidered, and trimmed round the bottom with lace, put on rather full. The pelisse made round in the skirt, like the short Indian coat; and trimmed round the throat and wrists with swansdown; faced in front and trimmed round the bottom with broad stripes of black velvet; military front, with two rows of mother-of-pearl buttons, fastened down the front of the skirt with one row of the same and alternate tassels, the colour of the pelisse, with is confined at the waist by a gold belt. Yeoman's hat of the same colour, materials, and ornaments as the pelisse, and finished in front with a flat ostrich feather.
No. 2. --EVENING DRESS. [appropriate as opera dress also]
A velvet, or gossamer satin gown, of bright amaranth, ruby, or cinnebar brown, with a demi- train, trimmed round the bottom, bosom, and sleeves with a light tassels fringe, of the frivolité kind, of the same colour; apron of white crape, sarsnet, or lace, ornamented with the same; sleeves of white satin, or of materials correspondent with the apron; these short sleeves made rather nearer to the elbow than formerly, and formed after the chemisette-style. The body of the gown richly ornamented with beads or pearl, crossed like the ribband braciers, and confined at the bosom by a bright ruby broach, set round with pearl. The waist confined by two rows of beads or pearl, and fastened in front with a broach, the same as that on the bust. A lace half handkerchief, with a border richly embroidered in coloured silks, tied carelessly round the neck. Moorish turban of white satin and coloured crape twisted in the front, the same colour as the gown, and fastened on the crown with a ruby ornament to correspond with the broaches. Earrings of one large pearl, of the pear form, with a single row as a necklace to correspond; bracelets of two rows of pearl, clasped by one large ruby. White satin slippers, with very small rosettes of the same; and white kid gloves. A fine Cachemire shawl, of very pale buff colour, is thrown over this dress at the conclusion of the visits, the Opera, &c.
GENERAL OBSERVATIONS ON FASHION AND DRESS.
[from page 153] The most prevailing colours are willow and grass green, ruby, jonquil, and Cinnebar brown.
| | |
| --- | --- |
| | This plate was recently given to me by my most generous and kind-hearted friend, Martin Porter. The detail is incredible. You can see the eye color, a soft brown. The glorious turban is revealed in all its details. |
---