March Vol. 15, No. 95 (1817)
Image of Cover Page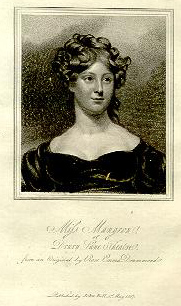 Image of Drury Lane Actress published in this issue.
FASHIONS
FOR
APRIL, 1817
EXPLANATION OF THE PRINTS OF FASHION.
FRENCH.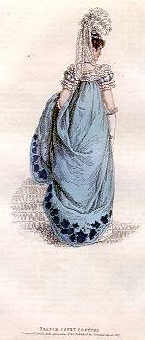 No. 1. --DRESS OF THE COURT OF FRANCE.
White satin petticoat, bordered with a rich work in silver lama of grapes and vine leaves. Body of silver tissue, with short sleeves of crape, ornamented with pearls. Falling tucker of crape, three rows, to correspond with the sleeves. Mantuan train of satin of a fine tyrian purple, pink, or etherial blue, embroidered round the border in the same manner as the petticoat. The hair evelated on the summit of the head, and encircled with a bandeau of diamonds. A full plume of white ostrich and marabout feathers intermingled. Court lappets of fine Mechlin lace, edged with small pearls; diamond necklace and earrings.
ENGLISH.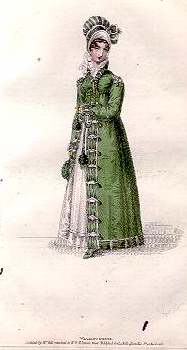 No. 2. --WALKING DRESS.
Round dress of fine cambric, under a pelisse of emerald-green reps sarsnet, ornamented and faced with flutings of green and white satin, elegantly finished by British silk trimming; the waist girt by a rich silk cordon of the same manufacture, with full tassels. Spring bonnet of green curled silk, the crown and ornaments of white satin and emerald-green, to correspond with the pelisse. Green satin half boots and Limerick gloves. Berlin ridicule of green and white satin.
GENERAL OBSERVATIONS ON FASHION AND DRESS.
[from page 135] The favourite colours are peach down, emerald green, Palmetto green, pale tea-leaf, Spanish brown, scarlet and celestial blue.
Embroidery Pattern printed in this issue.
---