Carriage Dresses
---
George Mossman's Collection of Carriages is an interesting page to see some vehicles in which these clothes would be worn.
---
---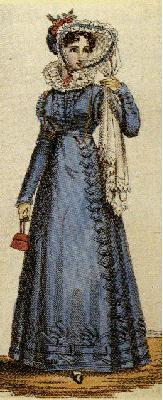 Left: Carriage Dress, Mourning, 1818, from Rudolf Ackermann's The Repository of Arts, Literature, Commerce, Manufactures, Fashion, and Politics, 1809-1829. This lady has a Russian wrapping-cloak with a deep pereline on. The cape is open in the front, so we can see the black dress beneath it which is trimmed with puff and rouleaux of black crepe. The Parisian bonnet is trimmed with black crepe and black crepe roses and is over a cornette of white with black edges. The reticule is black velvet with white silk trim, while the shoes and gloves are black leather.
Right: Carriage Dress, 1825, from The Lady's Magazine, or Entertaining Companion for the Fair Sex, Appropriated Solely to Their Use and Amusement, 1770-1837. This carriage dress of blue with matching blue bonnet is elaborately trimmed in the same color as the dress, creating a subtle sense of elegance. The little pink reticule echoes the pink ribbon and roses of the bonnet, while the white lace collar, bonnet trim, and veil draw the eye to the face.
---
---
To Return to the Regency Fashion Page