The Lady's Magazine, or Entertaining Companion for the Fair Sex, Appropriated Solely to Their Use and Amusement, 1794
Volume XXV for the Year 1794
London: G. G. J. and J. Robinson, No. 25, Pater-noster Row.
This volume, volume 25, has 12 issues, one for each month. Each issue has several copper- plate engravings, none of which are pure fashion plates. At least one plate each month is listed as an embroidery pattern for various articles of dress; however, the UCR edition has none of these plates. Each issue also usually has a frontispiece and illustrations for fiction. Some of the fiction runs over several issue. The only direct discussions of fashion occur after the two major court events of the year.
January 1794
DESCRIPTION OF THE LADIES' DRESSES on her MAJESTY'S BIRTH-DAY
(Court Dresses from pages 5-7)
[from page 5] The Queen appeared in a very elegant crape petticoat, embroidered with white purple and orange coloured satin, and stripes of black lace; the whole forming the most elegant dress we remember her majesty to have appeared in for several years past
The Princess Royal. A very rich crape, embroidered with stripes, laced with gold and stripes of purple, and blue foil; train, an elegant purple satin, embroidered with gold.
Princess Augusta. A rich embroidery, with green and purple, strewed with foils and tassels, and a train to correspond, elegantly embroidered.
[from page 7] Lady Courtoun An embroidered petticoat of green and gold, bordered with ermine, a rich drapery of gold gauze, ornamented with ermine, rich gold fringe festooned with knots of green and gold ribbons, and rich tassels; the train a purple and green and gold silk, trimmed with gold.
June 1794

DESCRIPTION OF THE LADIES' DRESSES on his MAJESTY'S BIRTH- DAY
(Court Dresses from pages 305-8)
The Queen.
[from pages 305]A yellow body and train, with silver embroidery; the petticoat richly drawn up with gauze festoons of lilies and lilac, and bands of diamonds; [from page 306] the head-dress a plume of feathers richly bound up.
[from page 308] The ladies of the birth-day drawing room were mostly dressed in white crapes, ornamented with embroidery. The caps were of the turban fashion, of crape, with bandeaus of sattin, embroidered with silver foil, or ornamented with silver wreaths.
Feathers were universally worn; four or five in an head-dress, of different colours, mostly half white, half lilac.
August 1794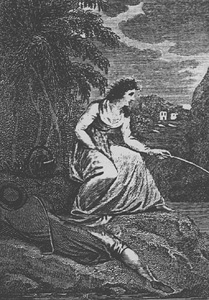 This issue contains "A new Pattern for a Gentleman's Handkerchief." There is also an engraving to go with "The Negligent Suitor. A Tale." that is printed on pages 398-399, shown above.

---
To Return to the Lady's Magazine Main Page
To Return to the Regency Publications Page