The Lady's Magazine, or Entertaining Companion for the Fair Sex, Appropriated solely to their Use and Amusement, 1810

Volume XLI for the Year 1810

London: G. Robinson, No. 25, Paternoster Row.

Previous Issue

Next Issue
July 1810
LONDON WALKING AND FULL DRESS.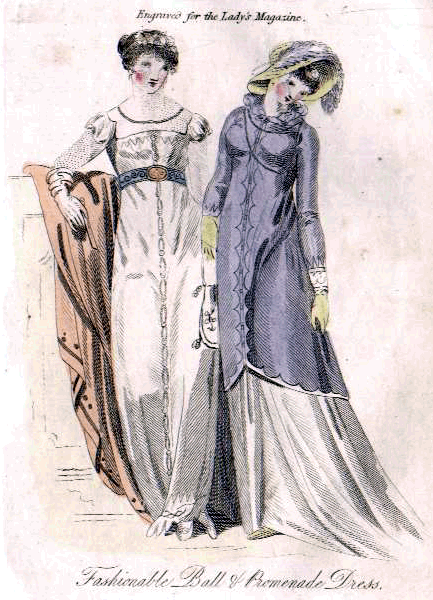 [Scan and text courtesy of Ko Oosterwijk; Text from page 296.]
1. BALL dress A pink gossamer satin slip, with Grecian frock of white Persian gauze, united up the front and round the bottom with silver filligree, buttons and chain; the bottom trimmed with a deep vandyke lace; Spanish slash sleeves, confined with silver filligree buttons and cord; hair à-la-Greque, with Persian roses; pearl necklace, bracelets, and ear-rings; shoes, white satin, spotted with pink foil; gloves, French Kid; white crape fan.
2. Promenade dress. A Spanish pelisse of white and lilac shot sarsenet, trimmed with Chinese scalloped binding, ornamented up the front with the same, and fastened with correspondent buttons; a woodland hat, with lemon-colored chip, with curled ostrich feather of lilac and white; lemon-colored slippers, and kid gloves; gold neck-chain and broach; ridicule of painted velvet.
ON AVARICE.
FEW passions are more frigid than this. It is unrelenting and steely. It induces cruelty and brutality. It not only hardens the temper, but renders the mind gross, and delights not in mental exertions. It is a thirsty sponge, which drinks up whatever is excellent. It is a cormorant which is never satisfied.
And yet it will, in the varieties of human nature, sometimes combine with probity, sometimes with sensibility, sometimes with benevolence. But, as it is imperious, it seldom suffers any virtue to stand in competition against it, so that an avaricious man can scarcely be trusted.
Avarice takes a very contracted view of objects, and is incapable of looking at more than one point at once. Possession is of more force with it than utility, and there have been instances of it benumbing the faculties so far, that people have preferred the possession of a small treasure, which they could contemplate at a view, to the certain prospect of immense wealth, which was not present.
---
To Return to the Lady's Magazine Main Page
To Return to the Regency Publications Page