Le Beau Monde, or Literary and Fashionable Magazine, 1806-1810
---
Vol. 3, No. 22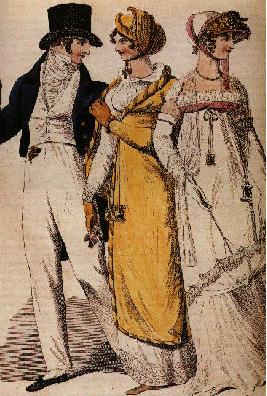 Note the helmet shape of the hats--this is part of the effort to imitate ancient Greek clothing. Note also how big the busts of the ladies are, almost out of proportion for the women.
Fashions for June 1808

Fig. No. 1.[man]--Morning Walking Dress.--A dark blue double-breasted coat, with large gilt basket buttons; white India dimity waistcoat and trowsers, and white silk stocking with a narrow clock; shoes with strings.
Fig. No. 1.[woman]--Kensington Garden Dresses.--A rich India muslin dress, with a superb embossed border, worked in floss silk, white or coloured, made short, walking length; high in the neck, and drawn full round the throat with a tuban collar falling over; the sleeves are long and full, and confined tight round the wrist; whilst the back of the dress is loose and drawn into the shape. The Arabian Tunic worn with this dress is composed of India shawl work of a brighter primrose, elegantly relieved with a turban trimming wreathed with green sarsnet. The Arabian hat is a graceful melange of the turban and gipsey forms, of a delicate straw or chip, confined under the chin, with a bow and tassels of green sarsnet. Gloeves straw colour, and half boots of green jane.
Fig. No. 2.--A short train dress of white net, bound with white satin round the bottom: the back of the dress is made square and low as also the front to match, with a deep rich lace falling over; a French body of pink satin, confined close under the bosom; the sleeves are short and full, and bound with white satin to correspond with the bottom; the Catalani [sic] tippet of white lace drapery, finished at one end with a rich white lace tassel, is thrown negligentely across the shoulder, whilst the other end hands down plain, and without ornament. The Flora bonnet is made of white chip, trimmed with pink sarsnet and ornamented in front with a bunch of various coloured flowers. Necklaces of emeralds, or imitations of the same, are much worn with this dress; the gloves and shoes are of white kid.
---
To Return to the Le Beau Monde Page
To Return to the Regency Publications Page
To Return to the Regency Fashion Page