The Lady's Magazine, or Entertaining Companion for the Fair Sex, Appropriated solely to their Use and Amusement, 1805

Volume XXXVI for the Year 1805

London: G. and J. Robinson, No. 25, Pater-noster-Row.

Previous Issue

Next Issue
May 1805
This issue featured an engraving of London Afternoon Dresses according to the table of contents. The fashion descriptions on page 264-5 and the plate, however, indicate this is an error due to not changing the type from last month's issue.
1. THE Roxborough hat, ornamented with roses; Cornelian necklace; black lace robe, lined with peach blossom; muslin dress; York tan gloves, and coloured kid shoes.
2. Brown satin hat, with white plumes; dress of coloured muslin, or crape; sleeves white, confined with an armlet; gloves white or yellow.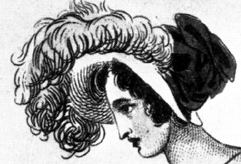 PARISIAN FASHIONS.
IT is still winter with the ladies of Paris with respect to their full dress; they wear satin, and even velvet robes, and velvet toques: but their walking dress are principally white robes, or printed linens with [from page 265] straw hats. Robes without trains, and short sleeves, are becoming numerous; as are corded shawls. The straw hats, as well as the taffety capotes, have the brim turned up in front, and advanced considerably. The colours for ribbons most in vogue, are the rose, lilac, and apple-green. Artificial flowers, imitating those in season, are worn in full dress. Lately, at the opera, several diadems of violets were observed; there were examples likewise of a diadem of antiques over a bandeau of diamonds. Head-dresses in hair in general display the forehead, the smooth hair being combed to the right and left.
In undress, nothing is more common than laced collerettes, forming a point behind and a jabot before: in an adjusted undress an apron of fine muslin, with an embroidered border, and trimmed with lace, is distinguishedly fashionable.
---
To Return to the Lady's Magazine Main Page
To Return to the Regency Publications Page