The Lady's Magazine, or Entertaining Companion for the Fair Sex, Appropriated solely to their Use and Amusement, 1805

Volume XXXVI for the Year 1805

London: G. and J. Robinson, No. 25, Pater-noster-Row.

Previous Issue

Next Issue
June 1805
(With an Engraving, elegantly coloured.)

[Image shown in greyscale not color; text from page 321.]
TIARA head-dress, ornamented with the installation plumes; cornelian necklace and cross; dress of light blue, or coloured muslin, drawn up on one side to shew the petticoat; tucker let in, sleeves muslin, and lace fashioned with a broach and silk bow and tassels for the waist; the petticoat bordered with lace and small tucks.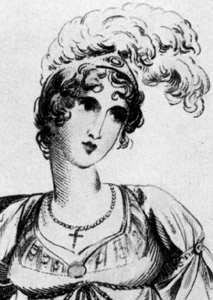 PARISIAN FASHIONS.
THERE are rarely any fashions so generally adopted as that at present prevailing of yellow straw hats, with a round bottom covered with taffety. For these several days past the air having been somewhat keen, many ladies have worn under their hats a bandeau of tulle,or lace, or a small cap. --The number of capotes of perkale has increased, which has not been the case with those of dimity.
Aprons are seen of various sorts, as well with respect to their cut as the manner in which they are trimmed. Some are of embroidered muslin, with a trimming all round, and worn over a white muslin robe.
--Coloured robes are embroidered muslin, but much less frequently than white.
--Short sleeves now come down nearly to the elbows: they are still worn puckered.
Shawls are in general long; many of them are muslin. Veils are become [sic] much less common.
---
To Return to the Lady's Magazine Main Page
To Return to the Regency Publications Page