The Lady's Magazine, or Entertaining Companion for the Fair Sex, Appropriated solely to their Use and Amusement, 1805

Volume XXXVI for the Year 1805

London: G. and J. Robinson, No. 25, Pater-noster-Row.

Previous Issue

Next Issue
July 1805
LONDON WALKING AND FULL DRESSES.
(With an Engraving, elegantly coloured.)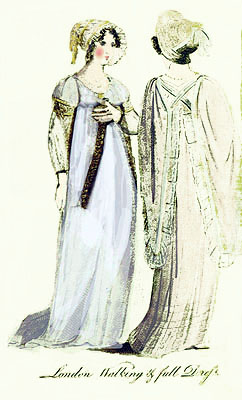 [Original plate damaged by water color error or ink spill; both images above attempt to clean up and restore original; text is from page 369.]
1.[figure on right] STRAW hat or bonnet; cloak of worked muslin, or lenno, lined with silk, crossed on the back, and trimmed with lace: short muslin dress; russet shoes.
2. Cap of apple-blossom silk, covered with lace, and deep lace border, bunche of roses in front; dress of light-coloured silk, and lace draperies on the sides, tied round the waist with silk cord and tassels; short lace sleeves; silk gloves; and white shoes.
PARISIAN FASHIONS.
THE rose, jonquil, and lapis-lazuli (or blue), are colours still fashionable, though somewhat less in vogue, as within these few days apple-green and white have become very prevalent.--The head-dresses of smooth hair are ornamented usually with a diadem of flowers, the point of which is considerably raised. The flowers of which these diadems are composed are of three or four sorts, and are not intermingled with any kind of leaves. Besides roses, which display most taste when in the bud, ranunculuses, heliotropes, and the hortensia, are worn: jonquils and hyacinths have gone out. The hat, or at least that part of it on which these flowers are worn, is usually not of yellow but of white straw, or of very fine sparterie.
August 1805
LONDON FASHIONABLE FULL DRESS.
(With an Engraving, elegantly coloured.)
[Image not available; text from page 425.]
SHORT dress of coloured silk or muslin, over a long dress of white satin, or lawn; trimmed down the front and bottom with lace, or worked muslin: short sleeves fastened at the shoulder with a broach: muslin handkerchief or turban for the head-dress: silk gloves; and kid shoes.
---
To Return to the Lady's Magazine Main Page
To Return to the Regency Publications Page